eID-Me is perfect for:
Government
Financial Services
Health Care
Ecommerce
Sharing/Gig Economy
Legal Services
and other ID-enabled services
Remote, online identity verification in minutes
Get more customers by improving your onboarding with remote, online identity verification from your customer's home.
Reduce friction in your registration process with fast identity verification in minutes (not weeks).
Your customers easily scan their driver's licence, passport, and other ID cards on their phone online from home or in person.
Verify name, age, address, and other identity information without tedious forms or typos.
Verify the accuracy of customer information to reduce identity fraud, identity theft, and failed transactions.
Comply with government and financial regulations, including Treasury Board of Canada's Identity Assurance Levels (IALs) and FINTRAC's AML KYC regulations.
Secure and private digital identity on your customer's smartphone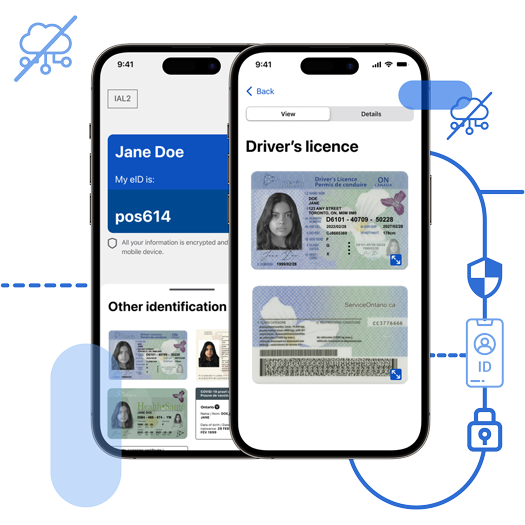 Give your customers a certificate-based digital identity with verified information in a secure digital wallet on their phone.
Your customer's identity is secured with strong AES-256 encryption, their phone's authentication, and their phone's security hardware.
Your customer's information is decentralized on their phone. No personal information is stored in a centralized online database, eliminating large data breaches.
Your customer always has control of their identity.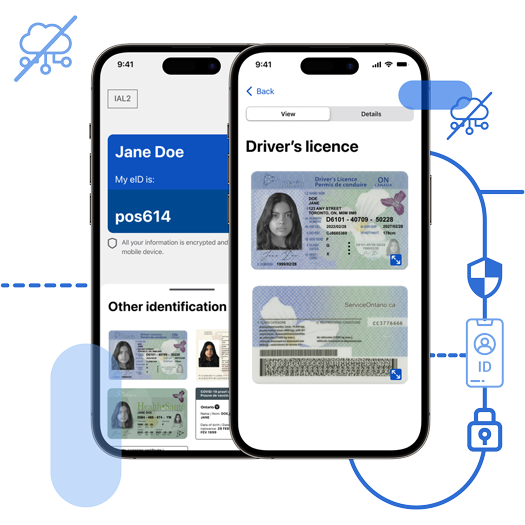 Secure and easy access to your services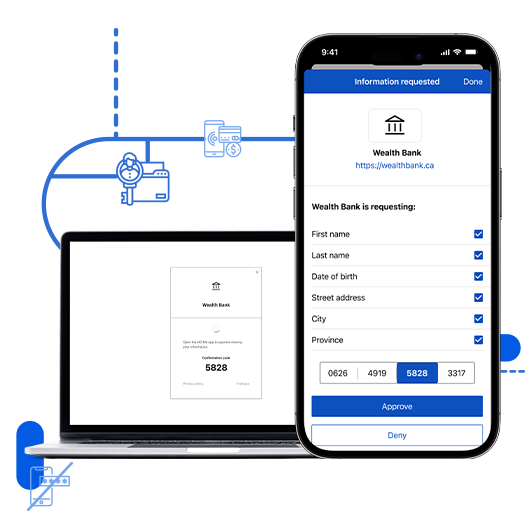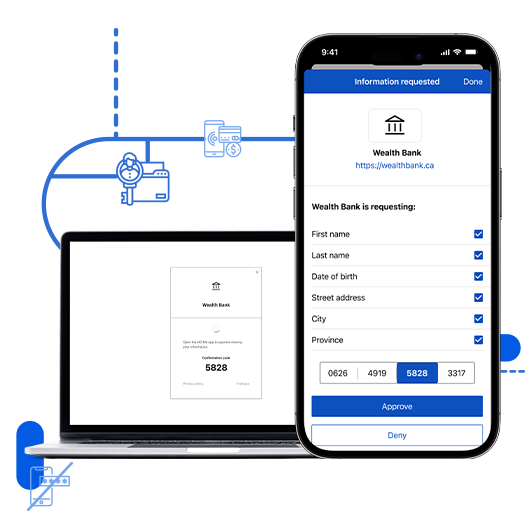 Let customers easily access your online and in-person services using their verified digital ID on their phone.
Give customers convenient password-free sign-on to your website, using standard identity federation protocols.
Request verified identity information directly from your customer's phone when they need to access your services.
Customers enter their eID on your website (similar to a username), which pushes an ID request to their eID-Me app. They review and approve it to securely send information back to your website.
Prevent identity fraud and identity theft with private and secure ID verification
What makes eID-Me different?
Faster verification: Real time results in seconds.
Better security and privacy: Decentralized ID secured on your customer's smartphone, not in the cloud.
Better convenience: Reusable digital ID, always with users, works both online and in person.
Better flexibility and control: Native code capabilities for selfie, liveness detection, and document capture.
Better accuracy and reduced fraud: 3D face detection, gesture AI, OCR and PDF417-conversion, logo and blur detection, active passport validation using ICAO PKD.
Better compliance with standards: FINTRAC AML KYC identity verification, Pan-Canadian Trust Framework, mDL (AAMVA ISO 18013-5), ePassport (ICAO eMRTD), X.509 v3 certificate-based ID, SAML and OpenID Connect identity federation.
See eID-Me verified digital identity in action
Watch how the eID-Me smartphone app verifies identity and enables password-free login to services, using selfie, scanned identity documents, and a mobile digital identity.
Developed in partnership with:


Get more customers by improving your onboarding and registration with fast and easy ID verification
Customer and user testimonials

"Super easy. Scanned even before I realized it scanned." "Having the most convenient identification method is best. I'd be very willing to use an app like this."
Carleton University UX Research Participants
"The faster way for our clients and the better way for us is to put in your eID number and your file gets opened automatically with your name, address, and birthdate... It gives us the assurance that the people we're talking to in their homes with no one else physically present are who they say they are."
Sanjay Soni - Founder and Managing Lawyer, Nexera Law (Now part of Diamond and Diamond Lawyers)

"What we thought would be a difficult and complex integration was actually quite simple and the minor issues and questions we had were quickly and pleasantly facilitated by the Bluink team. We've been putting off integrating with a digital ID system as most are complex (blockchain-based) solutions that are still quite far from usable for mass adoption. However, Bluink's eID-Me is simple and straightforward for users to connect to and use, so implementing it was a no-brainer for us."
Paul Marek - Co-Founder & CEO, MUUVER Inc. (Online Voting Platform)
eID-Me identity verification demo
Learn how eID-Me identity verification works for your business