eID-Me is perfect for:
Government
Financial Services
Health Care
Ecommerce
Sharing/Gig Economy
Legal Services
and other ID-enabled services.
Online identity proofing in minutes
Get more customers by improving your onboarding with online identity proofing from your customer's home.
Reduce friction in your registration process with fast identity proofing in minutes (not weeks).
Your customers easily scan their driver's licence, passport, and other ID documents on their phone online from home or in person.
Verify your customer's name, age, address, and other identity information without tedious forms or typos.
Increase the accuracy of your customer's information to eliminate failed transactions and billings.
Comply with government and financial regulations, including Treasury Board of Canada's Identity Assurance Levels (IALs) and FINTRAC's AML KYC regulations.
Secure and private digital identity on your customer's smartphone
Give your customers a certificate-based digital identity with verified information in a secure digital wallet on their phone.
Your customer's identity is secured with strong AES-256 encryption, their phone's authentication, and their phone's security hardware.
Your customer's information is decentralized on their phone. No personal information is stored in a centralized online database, eliminating large data breaches.
Your customer always has control of their identity.
Secure and easy access to your services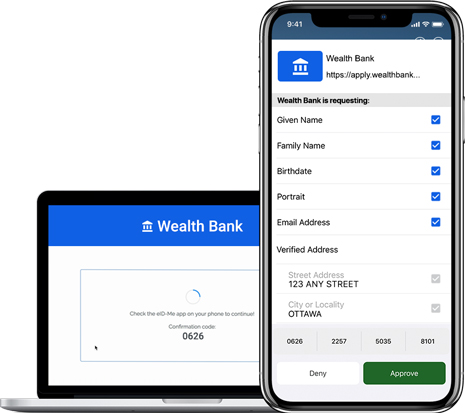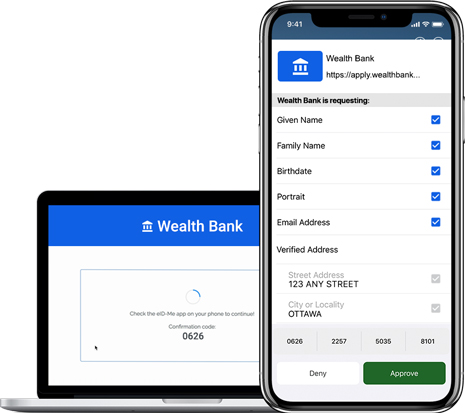 Let customers easily access your online and in-person services using their verified digital ID on their phone.
Give customers convenient password-free sign-on to your website, using standard identity federation protocols.
Request verified identity information directly from your customer's phone when they need to access your services.
Customers enter their eID on your website (similar to a username), which pushes an ID request to their eID-Me app. They review and approve it to securely send information back to your website.
Verify identity in minutes from home to give customers better access to your services.
What makes eID-Me different?
Decentralized identity in your customer's control. Nothing is stored in a centralized database, eliminating large data breaches.
Native code capabilities: selfie, liveness detection, and document capture.
Known code provenance and control. Common code base across platforms.
Technology: OCR and PDF 417 conversion, blur detection, logo detection, passport scan with active validation, 3D face using optical flow and gesture AI.
Developed in partnership with:


Get more customers by improving your onboarding and registration with fast identity proofing.
eID-Me launches this fall! Become a member to help shape the future of digital ID.