What is eID-Me?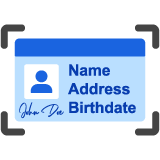 Fast ID verification from home
Verify your identity in minutes from the comfort of your home by scanning your ID cards and taking a live selfie.
Universal digital ID, secure digital wallet
Your digital identity is secured offline in a decentralized digital wallet on your smartphone, using strong encryption and your phone's hardware-backed security.
Better access to services (coming soon)
Get online and offline access to government, financial, and other ID-enabled services using your digital ID. No passwords or long forms required. Share just the information you want to share.
Your eID-Me Member benefits
Limited-time testing and feedback opportunities (depending on location).
Exclusive access to insider updates and information.
Access to eID-Me Members groups with polls and group discussions.
Free download: eID-Me Data Protection and Privacy whitepaper.
Opportunity to help shape eID-Me and the future of digital identity.
Download eID-Me on your smartphone and get your digital ID