What Is eID-Me?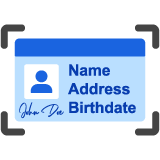 Fast ID verification in minutes from home
Verify your identity in minutes from the comfort of your home by scanning your driver's licence, health card, passport, and other ID documents.
Universal digital ID, secure digital wallet
Receive your digital identity in a secure digital wallet on your phone, protected with strong encryption and your phone's hardware-backed security. No information is centralized or stored online in a cloud database. You have control of your identity.
Better access to ID-enabled services (coming soon)
Get online and in-person access to government, financial, health care, and other ID-enabled services using your digital ID on your phone (coming soon). No passwords or long forms required. Share just the information you want to share. Convenient, private, and secure.
Your eID-Me Member Benefits
Limited-time testing and feedback opportunities (depending on location).
Exclusive access to insider updates and information.
Access to eID-Me Members groups with polls and group discussions.
Free download: eID-Me Data Protection and Privacy whitepaper.
Opportunity to help shape eID-Me and the future of digital identity.
Download eID-Me on your smartphone and get your digital ID