User experience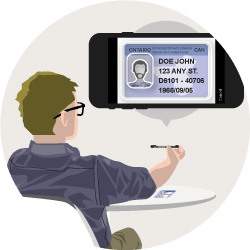 Verify identity
Take a selfie, scan a card. eID-Me verifies the customer's identity with identity proofing using third-party credit bureaus and mobile phone providers. Customers are verified and registered in minutes, not days. Afterwards, a certificate-based digital identity with verified credentials is issued to their phone. No keys, key cards, or fobs required.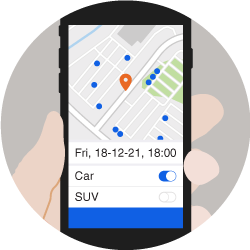 Reserve a vehicle
Customers use a web service or app to reserve a vehicle online with their eID-Me mobile app. No passwords required.
Unlock it with your phone
At the reservation time, the customer approaches the vehicle and taps the "Use eID" button on their phone. This connects the eID-Me app to the car OS over a secure Bluetooth connection, allowing eID-Me to unlock the vehicle.
Value
Convenience
Onboarding in minutes
Automatic card scans
No keys, key cards, or passwords
Sharing of fleet and privately-owned cars from one platform
Security and privacy
ID proofing using trusted databases
Certificate-based federated identity
Information locally stored on phone in secure digital wallet
Peace of mind
ROI
Owners receive revenue from idle cars
Manufacturers receive revenue from new model
Car OS providers generate recurring revenue from software licensing
eID-Me showcased in BlackBerry QNX / L-SPARK Accelerator
Last December, Bluink was one of seven companies chosen to be part of the BlackBerry / L-SPARK Accelerator Program. The program has enabled Bluink to collaborate with BlackBerry QNX to develop car sharing capabilities into automobiles using eID-Me's mobile identity verification and digital identity platform.
Learn more about eID-Me identity verification and digital identity