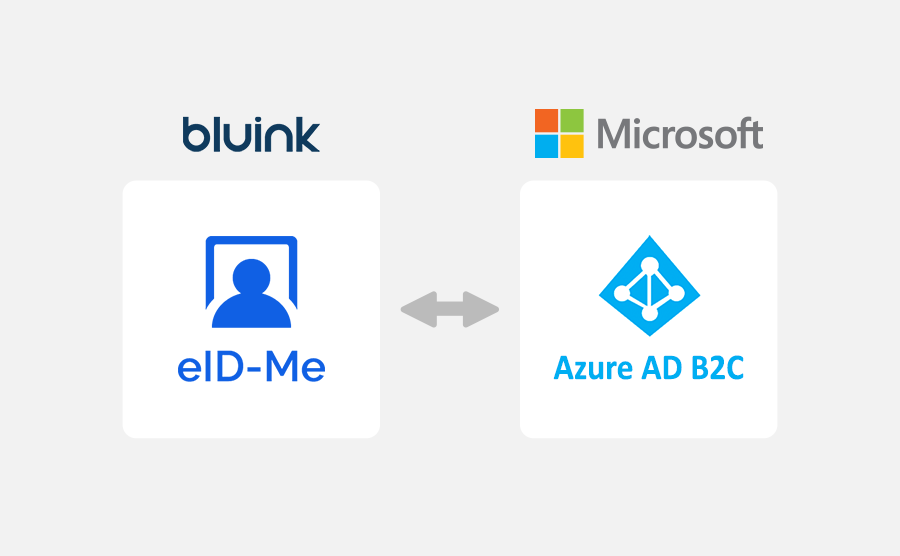 Ottawa, ON (April 13, 2022) – Bluink has partnered with Microsoft to integrate eID-Me identity verification and digital identity into Microsoft's Azure AD B2C customer identity and access management platform.
Who can use eID-Me and Azure AD B2C?
Any organization that needs to verify identity and authenticate Canadian end users to Azure AD B2C tenant applications can now use eID-Me.
This includes government organizations providing services to citizens, businesses providing products to customers, and more.
Using eID-Me and Azure AD B2C allows organizations to:
Verify the identity of users in seconds.
Prevent identity theft and fraud.
Authenticate users using password-free multi-factor authentication (MFA).
Improve the user sign-in experience.
Improve customer privacy and security.
Configure your own sign up policies (assurance level, locality, age, etc.).
Comply with KYC regulations and standards.
How does eID-Me work with Azure AD B2C?
A user verifies their identity in the eID-Me mobile app by scanning ID documents, taking a selfie with liveness detection, and submitting for verification.
Once verified, the user receives a decentralized, reusable digital ID, which includes:
A unique eID identifier (e.g. abc321)
A secure digital wallet (eID-Me app)
Identity information secured in the digital wallet (and nowhere else). Bluink does not store any personally identifiable information (PII).
The user enters their eID on the sign up page of an organization's Azure AD B2C application. This sends a push notification to the user's eID-Me app, including the name of the organization and the identity information being requested.
The user approves the request to send the information to Azure AD B2C which then applies the rules in the organization's sign up policy.
Once the user has signed up, they can sign in to the organization's tenant application using their eID-Me digital identity with multi-factor authentication (MFA) and password-free sign in.