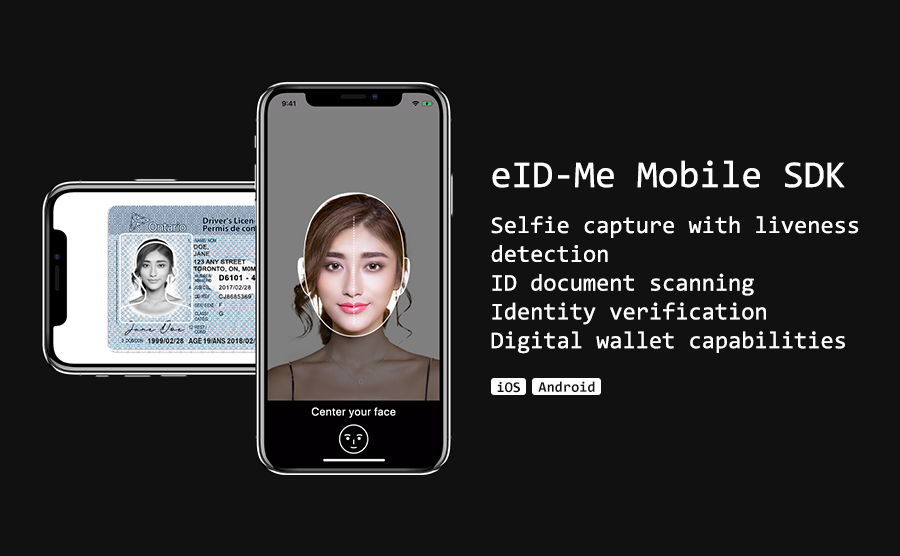 Today we launch our eID-Me Mobile Software Development Kit (Mobile SDK) for Canadian app developers.
The Mobile SDK lets developers integrate one or more of these functions into their iOS and Android apps:
Selfie capture with liveness detection
Identity document capture
Identity verification
Digital wallet issuance
Digital wallet presentation and federated identity transactions
Password-free login
With the Mobile SDK, businesses can quickly and easily develop apps that are able to:
Scan and extract information from over 30 identity documents across Canada including:

Driver's licences and photo ID cards from all Canadian provinces and territories
Health cards from Ontario and Quebec
BC Services Cards
Passports from Canada, US, China, France, Malaysia, and the UK
Permanent resident cards
Certificate of Indian Status cards
NEXUS cards and FAST cards
(And more are being added)

FINTRAC-compliant eKYC (electronic know your customer) with verification results in seconds.
Ensure real people are registering for your app with patented liveness detection and selfie capture.
Prevent identity fraud.
Issue a standards-based digital identity, including a mobile driver's licence (AAMVA ISO 18013-5 mDL) and ePassport (ICAO eMRTD).
Securely store ID information in an encrypted digital wallet on the user's mobile phone.
Securely request ID information from the user's digital wallet.
Allow password-free login using federated single sign-on (SSO) from the mobile phone.
Comply with Canadian regulations and standards, including FINTRAC KYC, Identity Assurance Levels, and the Pan Canadian Trust Framework.
Contact info@bluink.ca to learn more.
Download the free eID-Me app on iOS or Android to see what the user experience looks like.