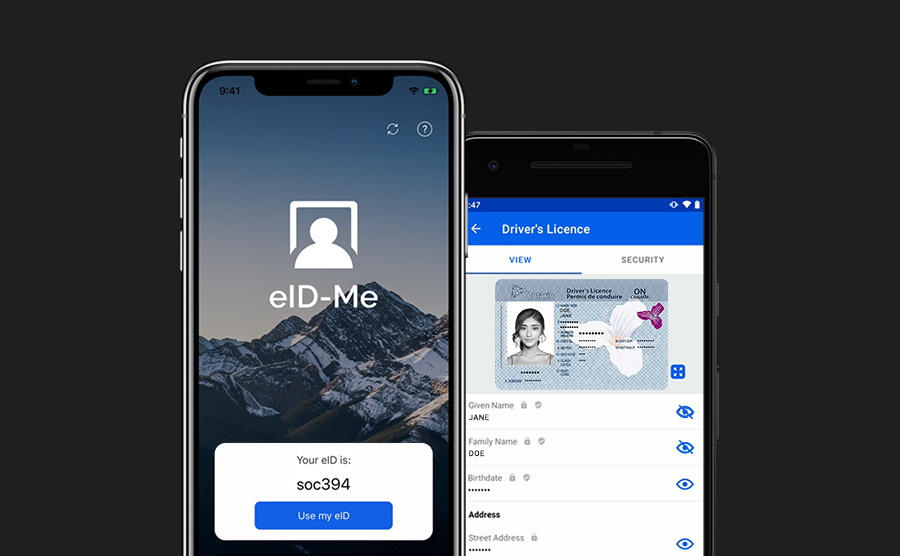 Ottawa, ON (January 11, 2022) – Since launch, the eID-Me digital ID app has required a passport to increase identity assurance. Unfortunately, this prevented many Canadian residents from registering. Today, we've removed the passport requirement, allowing Canadian residents to get an eID-Me digital ID with just a driver's licence or photo ID card.

eID-Me is a fully decentralized Sovereign Identity that encrypts ID information offline in a digital wallet on your mobile phone. Users can share this ID information with various organizations that are adopting eID-Me for customer onboarding and eKYC (know your customer) identity verification.

eID-Me can also be used as a secure backup of ID information in case physical ID documents are lost.

When eID-Me launched in March 2020, both an ID card and passport were required to verify a user's identity. This provided high certainty that users are who they claim to be, allowing eID-Me to meet the Government of Canada's standards for identity assurance level 2 or higher (IAL2+), which fulfills identity verification requirements for most organizations.

However, many people don't have a valid passport, which prevented them from registering for eID-Me altogether. Removing the passport requirement was one of our most requested changes.

That's where our newest feature comes in: Flexible IAL (or Flex IAL for short).

Flex IAL gives eID-Me different levels of identity assurance (IAL1 or IAL2+) based on what ID documents are scanned by a user.

Now users can scan one ID card to get an IAL1 digital ID. Or they can scan an ID card and a passport to get an IAL2 digital ID.

Users with IAL1 can share ID information with organizations that accept IAL1. Users with IAL2 can share ID information with organizations that accept IAL1 or IAL2.

We're now developing integrations with organizations and plan to add other verification methods to let users register, or upgrade their current digital ID to IAL2.

"Our goal is to improve access to digital, online and offline services for all Canadians," says Steve Borza, CEO of Bluink. "That's why we removed the passport requirement and that's why we created eID-Me in the first place. We have listened to our users and we're happy to implement this new capability and remove friction from the eID-Me onboarding process."
---
About Bluink

Bluink is a digital identity company headquartered in Ottawa, Canada that specializes in identity and access management and customer identity verification, using the smartphone as a strong authenticator and secure identity store. Bluink's mission is to empower people and businesses by making secure access simple using strong digital identities. For more information, visit www.bluink.ca.

Press Contact
Alex Longval
Marketing and Community Director
alongval@bluink.ca