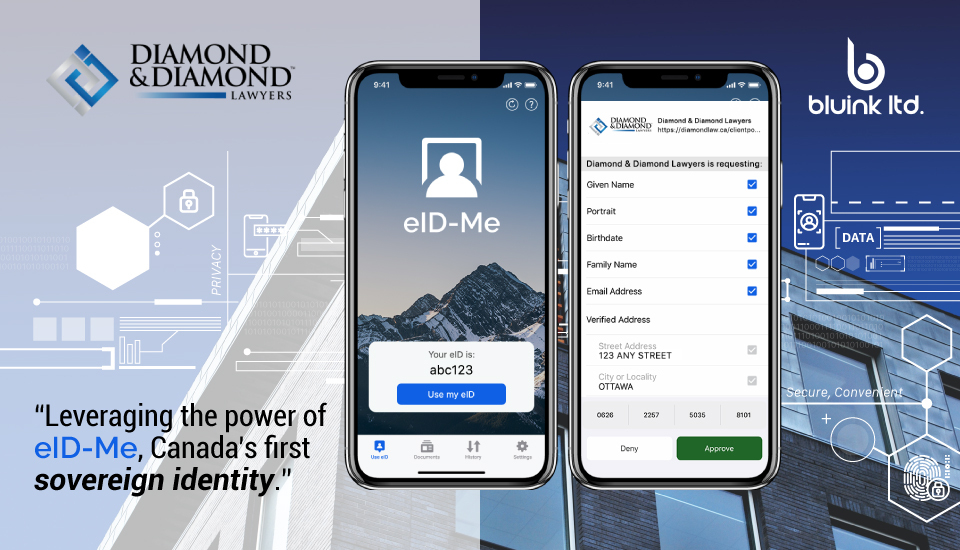 Ontarians can now use eID-Me digital ID verification to assist in buying, selling, and refinancing a home with Diamond and Diamond Lawyers LLP
Ontario (January 5, 2021) – Bluink is excited to announce that Diamond and Diamond Lawyers has integrated eID-Me digital identity into their real estate platform to reduce fraud and make transactions faster and easier. With eID-Me, Diamond and Diamond clients can remotely verify their identity, quickly onboard onto the platform, and access the client portal password-free.
"This is what eID-Me is created for," says Steve Borza, CEO of Bluink. "Private, secure, and convenient access to services using eID-Me, a digital identity smartphone app that helps organizations verify sensitive identity information. Diamond and Diamond is one of the first relying parties to onboard clients with Bluink's Identity Provider (IdP), leveraging the power of eID-Me, Canada's first sovereign identity. We are certain that this partnership will create opportunities for digital services and digital identity."
See eID-Me explained by Bluink's team and learn how it works (video).
Legal Services Industry and Digital Trends
The legal services industry has long been facing issues similar to many others: a lengthy application process, resource inefficiency, and the risk of identity theft and fraud. Clients are required to meet in person with lawyers to provide identification, which is a hassle that delays onboarding, and is impractical with COVID-19 restrictions. Manually verifying and protecting identity information leads to increased operating costs (e.g. labour, time), risk of human error, and risk of identity theft and fraud. Ensuring that ID cards and identity information are accurate, reliable, and genuine is a huge challenge that must be overcome to protect lawyer-client relationships. "Sometimes identifying individuals with ID can be one of our biggest challenges as a real estate lawyer. Enabling eID-Me will help strengthen our ability as lawyers to ensure we are complying with best practices for identification," says Joseph Berljawsky, Lawyer and Manager of the Real Estate Division at Diamond and Diamond.
More people are online and on their smartphones, which presents opportunities and threats. Smartphone penetration as a share of the Canadian population is over 82%. In January 2019, 33% of online traffic was generated through mobile phones (a 16% increase from 2015). Data breaches have also seen a tremendous increase. The Office of the Privacy Commissioner of Canada (OPC) said that 680 data breaches affecting 28 million people were reported between November 2018 and October 2019, a shocking "six times the volume [they] had received during the same period one year earlier." Key contributors include phishing and impersonation: two of the biggest threats to identity verification.
These trends show that strong authentication technology provided by eID-Me is needed to streamline transactions and prevent data breaches, identity theft, and identity fraud.
Diamond and Diamond Brings Digital Transformation to Real Estate Law
Last August, Diamond and Diamond's real estate division merged with the Nexera Law Group to combine Nexera's technological prowess with Diamond and Diamond's esteemed national reputation.
"Our goal is to produce one of the most sophisticated real estate closing processes in the country," says Isaac Zisckind, Senior Partner at Diamond and Diamond. The new integrated software platform, which includes Bluink's eID-Me, will allow Diamond and Diamond to electronically intake new files, verify ID, produce all required legal documentation, as well as allow clients the ability to virtually sign paperwork. This process will bring real estate lawyers in Canada to the next level of service.
Clients will also be provided real-time status updates and other ancillary services through a personalized portal.
eID-Me: Remote Identity Verification and Secure Information Sharing
Using the eID-Me smartphone app, new real estate clients can remotely verify their identity and securely share verified information with Diamond and Diamond Real Estate Lawyers. This technology will be integrated into the real estate transaction to streamline the process. This eliminates the need for clients to remember passwords and provides them with real-time notifications regarding the status of their transaction. "The addition of eID-Me remote identity verification and secure information sharing complements our already robust convenience technology lineup, with added security features. This partnership is another advancement in ensuring our clients have the best in class, convenient, and highly-secure real estate transactions," says Sanjay Soni, Founder and Managing Lawyer at Nexera Law Group (now merged with Diamond and Diamond).
How eID-Me Works
Integration of eID-Me into Diamond and Diamond's digital real estate lawyer portal is accomplished through standards-based federation protocols. Using OpenID Connect, Diamond and Diamond can securely request clients' identity information during an initial eID-Me login. Clients can then use eID-Me to log in password-free to access their real estate accounts for the duration of the transaction.
With today's reality of stay-at-home and social distancing, face-to-face business transactions are difficult, if not impossible. With eID-Me, Diamond and Diamond can move customer identity proofing and Know Your Customer (KYC) into the digital realm by requesting verified identity information from a secure and trusted eID, based on official government ID. Future access to the client portal is protected using eID-Me's password-free federated login.
With Bluink's eID-Me connecting to organizations like Diamond and Diamond, people can access the essential services they need wherever and whenever they need them.
For more information about eID-Me, visit eid-me.com.
About Bluink
Bluink is an Ottawa-based digital identity company that specializes in identity and access management and customer identity verification, using the smartphone as a strong authenticator and secure identity store. Bluink's mission is to empower people and organizations by making secure access simple using strong digital identities. For more information, visit www.bluink.ca.
About Diamond and Diamond
At Diamond and Diamond, the team of lawyers rely on their reputation in the field and extensive experience in real estate, corporate, and personal injury to provide clients with a dedicated support system over the duration of their case. Residents of Ontario, BC and Alberta often turn to Diamond and Diamond because of their talent, knowledge and willingness to negotiate difficult situations in real estate, corporate, and personal injury. For more information, visit diamondlaw.ca.
---
Press Contacts
Steve Borza
President & CEO
Alex Longval
Marketing and Community Director
Sanjay Soni
Founder/ Managing Lawyer, Nexera Law Group (now part of Diamond and Diamond Lawyers)
Isaac Zisckind
Senior Partner, Diamond and Diamond Lawyers
Bluink Ltd.
+1 613 695 9585