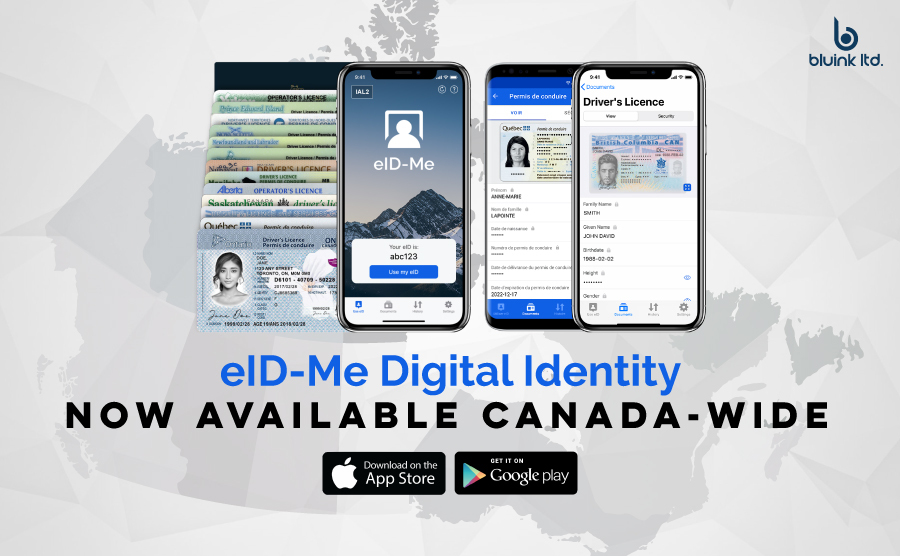 Ottawa, ON (March 16, 2021) – After three years of development, the eID-Me digital identity app is now officially available across all 10 provinces and 3 territories in Canada. The latest update adds support for Nova Scotia, New Brunswick, Newfoundland and Labrador, Prince Edward Island, Northwest Territories, and Yukon. eID-Me's purpose is to reduce identity fraud and improve access to services with remote identity verification in minutes and password-free login.
eID-Me is developed by the Ottawa-based company, Bluink, and backed by a $1.2M contract award from the Ontario Ministry of Economic Development, Job Creation and Trade.
"eID-Me is a prime example of how government innovation funding can spur cutting-edge technology that will benefit citizens for years to come. While the initial funding kick-started the project, we have continued to invest millions to get eID-Me to where it is today," says Steve Borza, CEO.
eID-Me Benefits for Individuals
eID-Me verifies and digitizes government ID and self-managed information into a digital identity on your smartphone. You only need to take a selfie with liveness check and scan your ID documents once, to create a sovereign identity that is unique to you, and held only by you. You can share verified ID information with your initiation and consent to seamlessly access services. It acts as a secure, private backup and digital wallet of your ID information, and is encrypted and stored offline on your smartphone.
eID-Me Benefits for Businesses
Existing online identity verification services are long, difficult, and potentially insecure. Some services ask difficult questions about outdated credit history. Some derive a user's identity from vulnerable password-based logins. Many take weeks to process verifications and cost hundreds of dollars to complete.

Businesses can embed eID-Me within their service platforms (e.g. client portal or e-commerce website) to enable password-free login, remote identity verification, or automated age verification for restricted goods like alcohol and cannabis.
"The faster way for our clients and the better way for us is to put in your eID number and your file gets opened automatically with your name, address, and birthdate… It gives us the assurance that the people we're talking to in their homes with no one else physically present are who they say they are." Sanjay Soni – Founder and Managing Lawyer of Nexera Law, (now part of Diamond and Diamond Lawyers).
How It Works
After taking a selfie and scanning ID documents, the user's identity information is encrypted and sent to eID-Me's secure registration server for verification. Once verified, an eID-Me digital identity is created on the user's smartphone using a digital certificate, which is bound to an anonymous identifier and the user's identity information. The user then has a secure, portable digital wallet, which can be used in online and offline identity transactions. No identity information is retained on Bluink's eID-Me servers.
eID-Me Security
eID-Me's decentralized identity model (also known as edge computing) reduces the risk of massive data breaches since there is no centralized store of identity information.

eID-Me's digital wallet is protected on the smartphone with strong encryption, leveraging the smartphone's hardware security mechanisms, and is bound to the user's unlock method (e.g., passcode, fingerprint scan, face verification). If a smartphone is lost, the "Find my iPhone" and "Find my Android Device" apps can be used to find the smartphone or remotely wipe the smartphone's data.

eID-Me can currently be used by the public, once successfully registered, as a secure backup for your identity documents. Partnerships have been formed with businesses across Canada to leverage eID-Me's capabilities: identity verification for financial services, security clearance and police background checks for the government, and general business processes that require verification for account creation.

"We will be announcing more partnerships with large cross-Canada partners in the next few months. These will show how the eID-Me digital identity can have a transformative effect on businesses: improving convenience and security, preventing fraud, and digitally transforming business operations. We are excited to accelerate adoption of digital identity in Canada," adds Steve Borza, CEO.
---
To register for eID-Me as an individual, you will need a valid Canadian or US passport and your Driver's Licence or Photo ID Card. The passport requirement will be removed in a later update to increase accessibility.

For full registration requirements and download links, visit eid-me.com/download.

Watch the eID-Me Registration Tutorial & Remote ID Verification Demo video to see eID-Me in action: https://youtu.be/1JaC1wD7wsw.
To integrate eID-Me into your service as a business, please contact us here.
(Read the news release in French.)
---
About Bluink

Bluink is a digital identity company headquartered in Ottawa, Canada that specializes in identity and access management and customer identity verification, using the smartphone as a strong authenticator and secure identity store. Bluink's mission is to empower people and businesses by making secure access simple using strong digital identities. For more information, visit www.bluink.ca.

Press Contacts

Steve Borza
President & CEO
sborza@bluink.ca
+1 (613) 695-9585

Alex Longval
Marketing and Community Director
alongval@bluink.ca